ISIL video purports to show Mosul residents celebrating Ramadi capture
Comments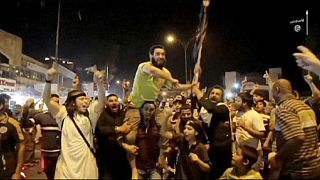 ISIL has released a video purporting to show Mosul residents celebrating the taking of Ramadi.
The city was reportedly captured by the Islamist extremists on Monday while Mosul, in Northern Iraq, has been under their control since June last year.
On the video one man was speaking to the camera says it is only a matter of time before they take the whole of Iraq:
"As the Caliph said the day before yesterday, the conquest of Anbar is just the beginning of the conquest of Baghdad, Najaf and Karbala. We will be smashing idols and shrines over the heads of their owners, God willing. Now the conquest has begun, now the fighting has begun."
The video showed people of all ages celebrating and waving the flag of the self named Islamic State group.
Euronews cannot independently verify the content of the video.