US Great Plains on tornado watch
Comments
By
Euronews
with
REUTERS, NBC, THE WEATHER CHANNEL, KFOR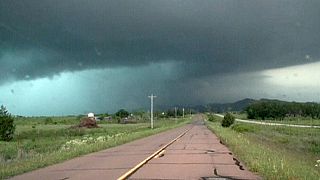 There are reports of at least 19 tornadoes across six US states, with an outbreak of severe weather causing damage across the Great Plains.
The worst-hit areas of the vertical strip of states are Oklahoma, Minnesota, Texas, Kansas, Nebraska and Wyoming.
RT @kfor: Storm damage from Leedey, Ok. Vewer says his uncle crawled out of the home with a few scrapes on his elbow. pic.twitter.com/fvUu3TPl1S

— The Weather Channel (@weatherchannel) May 17, 2015
Oklahoma local media reports damaging hail, gusts of over a hundred kilometres per hour and flash flooding. Severe thunderstrom and tornado watches are in place across the regions.
10:24pm CT: CONFIRMED #tornado located near Prue (in the Tulsa metro) is moving NE at 25 mph. Take shelter! #OKwxpic.twitter.com/NMHwJ585pb

— The Weather Channel (@weatherchannel) May 17, 2015