China: Fuzhou flooded as heavy rain lashes Fujian Province
Comments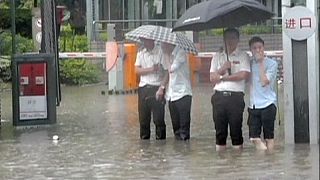 Heavy rain and hail have lashed Fuzhou, the capital of China's Fujian Province, causing flooding and driving the temperature down by ten degrees Celsius.
Rainfall in parts of the south-eastern city brought traffic to a standstill – with five centimetres reported in the first hour of a four-hour storm.
China has a four-tier weather warning system, with red representing the most severe weather, then orange, yellow and blue. Local meteorological authorities issued a blue alert for heavy rain, while the localised hail storms were rated orange.
Fuzhou, the capital city of Fujian Province in China's southeast, flooded yesterday after a heavy rain. pic.twitter.com/YljHtpjaYz

— All Things Chinese (@classicchina) May 17, 2015
There are no reports of casualties as a result of the weather front, however the National Climate Centre (NCC) said it is likely to continue through to the autumn, worsening the flood situation in some southern areas.
Known as 'El Nino', the weather pattern can bring floods to some regions, while causing drought in others. The NCC's Zhou Bing advises parts of northern China should expect drought as a result.