French PM says he is against migrant quotas
Comments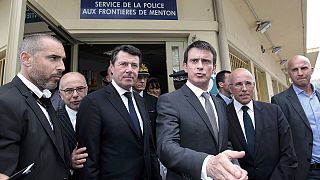 The French prime minister has visited the Rivera town of Menton where record numbers of migrants have been travelling from Africa through Italy and into France.
Manuel Valls said asylum seekers need to be distributed more fairly among EU member states.
He said he is against the introduction of migrant quotas.
"Asylum is a right, attributed according to international criteria, applied by all EU member states," Valls said. "This is why quotas can not be imposed on recipients. Either you are an asylum seeker or you are not. And of you are not, you are escorted back to the border."
Officials said nearly 1,000migrants were intercepted in the south of France over the past three days, many fleeing hunger and war in the Middle East and Africa.
Valls described the wave as "more than twice the influx linked to the Arab Spring."
Brussels last week proposed a new system to distribute asylum seekers around Europe more fairly, with a further intake of 20,000.
Britain and Hungary have also rejected the plan.
Migrants being 'tortured & raped in lawless #Libya' & EU action could trap them there' —> http://t.co/5Wb03mbEhHpic.twitter.com/zIdvstQk7t

— Chris Harris (@lyonanglais) May 11, 2015