An historic return to Cuba: Minnesota Orchestra performs in Havana
Comments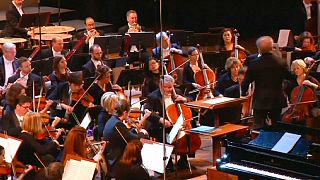 Minnesota Orchestra has returned to Cuba, for the first time in 85 years.
It has become the first major orchestra from the United States to play in the communist country since December, 2014, when it was announced that diplomatic relations between the two nations would be restored.
Perfect cultural exchange: @mn_orchestra musicians share language of music w/ Cuban students http://t.co/WuJv2I81Hdpic.twitter.com/UOzwjq4K85

— MinnPost (@MinnPost) May 15, 2015
Cuban, Ana Maria Verdes, was in the audience for the historic performance.
"What we should aspire to is that these exchanges are enriching, that they help us grow," she said. "For the benefit of the people of the United States as much as for the Cubans. It has truly been a pleasure."
The musicians were invited to the National Theatre in the capital Havana to play in the Cubadisco music festival. There, the audience was treated to Beethoven's Symphony Number 3, the Eroica.
MUSICAL HISTORY: @mn_orchestra performs Beethoven's Eroica now in La Habana. Listen via @ClassicalMPR - http://t.co/EaGlPAJpgp

— Edward Jensen (@edwardjensen) May 16, 2015
Gorgeous 1st movement of the Eroica Symphony by @mn_orchestra in Havana. Great broadcast by @ClassicalMPR. #MNOrchCuba#Beethoven

— Joe Thiegs (@jthiegs) May 16, 2015