River Plate players sprayed with eye irritant by Boca fans in Buenos Aires
Comments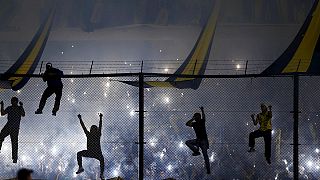 Four River Plate players have been treated in hospital after they were sprayed with an eye irritant by fans of city rivals Boca Juniors in Buenos Aires.
The attack happened in the tunnel of Boca's Bonbonera stadium as the teams came back out for the second half in the second leg of the last 16 Libertadores Cup tie, with the score at 0-0 and River 1-0 up after the first leg.
Officials from Conmebol, the South American Football Confederation, called the match off about an hour after the incident and the River players were escorted from the pitch under an umbrella of riot shields.
Boca president Daniel Angelici said he had spoken to his opposite number and apologised for the incident but maintained the team should not be punished for the actions of fans.
Conmebol officials at the game said a disciplinary committee would meet on Friday and decide whether to replay the match, complete it at a neutral venue or award the tie to River Plate.