British RAF jets intercept Russian bombers near UK airspace
Comments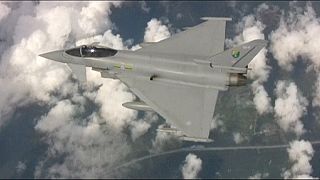 British Royal Air Force Typhoon fighter jets have been scrambled to intercept two Russian long-range bombers.
Britain's Ministry of Defence said on Thursday said the incident happened near UK airspace north of Scotland.
A ministry spokesman said in a statement that at no time did the military aircraft cross into UK sovreign airspace.
Intercepts of Russian aircraft by NATO have increased amid heightened tensions between the West and Moscow over the Ukraine crisis.