Vatican agrees treaty recognising Palestinian State
Comments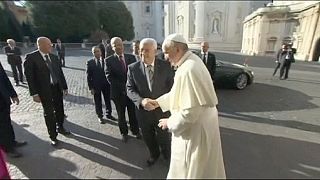 Just days before Palestinian President Mahmoud Abbas is due to visit Rome and the Vatican has agreed the text for its first treaty formally recognising the State of Palestine.
It prepares for a whole new era in which Palestine will be seen by the whole world as a state
Papal politics: Vatican document uses term 'state of Palestine' for first time in history http://t.co/XeltLmuWSqpic.twitter.com/Zvw2M031If

— Haaretz.com (@haaretzcom) May 13, 2015
The document which will be signed shortly constitutes an official diplomatic acknowledgment. It has been welcomed by Senior Palestinian officials such as Hanan Ashrawi:
"We are indeed extremely encouraged by the Vatican recognition of the state of Palestine. We also see this as a very positive development, not just politically but in moral terms, human terms, in legal terms and it prepares for a whole new era in which Palestine will be seen by the whole world as a state."
The Vatican's announcement comes amid growing momentum to recognise Palestinian statehood. Over the last year the European Parliament as well as the UK, Republic of Ireland, Spain and France have all passed non-binding motions in favour.
Pope Francis is also keen to strengthen the Christian presence in the Middle East at a time when thousands of Arab Christians are fleeing Islamic violence.
http://t.co/r3u40zjHJY Vatican and 'State of Palestine' agree to treaty safeguarding religious liberty #MidEastpic.twitter.com/eDnQolosLz

— Catholic News Agency (@cnalive) May 13, 2015
Israel has expressed disappointment at the move and warned that the treaty will do nothing to advance the peace process.
This weekend President Abbas will have talks with Pope Francis at the Vatican, and on Sunday he will be attend a canonisation ceremony during which two Palestinian nuns will be declared saints.