'Standing Tall' starring French icon opens Cannes Film Festival
Comments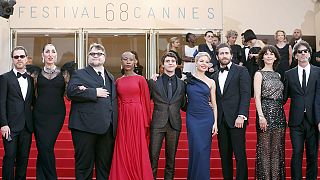 The stars have been out in force on the red carpet, for the start of the 68th Cannes Film Festival.
Filmmaker brothers Joel and Ethan Coen are judging this time around, as the first co-presidents of the main jury.
This year's festival is paying tribute to the late Ingrid Bergman, who starred in the classic "Casablanca."
Daughter Isabella Rossellini is presiding over one of the juries.
"Standing Tall" by Emmanuelle Bercot has premiered in the festival's coveted opening slot.
It is the first female-directed movie to do so in almost 30 years.
It stars French icon Catherine Deneuve, who plays the role of a judge overseeing the case of a troubled teenager.
"The competition is now underway, with twelve days of non-stop screenings," said euronews reporter Frederic Ponsard, who is in Cannes.
"So who will take the Palme d'Or after last year's Turkish winner, Nuri Bilge Ceylan?
"The judges will know after watching the 19 films in the official section of the competition."