Arctic oil prospecting imminent as Shell given go-ahead
Comments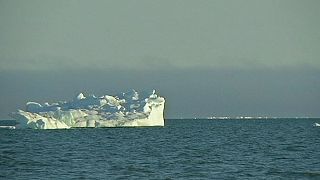 Arctic riches beckon. Anglo-Dutch oil company Shell has received renewed permission from the US government to prospect in Alaska's Chukchi Sea.
Washington gave Shell a permit in 2012, then called a halt when a rig broke loose, ringing environmental alarms, and concerns are far from being resolved to everyone's satisfaction.
Now, more parts of Alaskan waters are close to opening. The Chukchi and Beaufort Seas skirt the state's northern coast, together the entire US Arctic domain.
Ecologist groups condemn the regulatory Bureau of Ocean Energy Management for ignoring its own risk assessment. A few days ago, Greenpeace activists scaled the exploration rig Polar Pioneer in the Pacific Ocean as it was being towed towards Seattle, for leasing to Shell as part of its already six billion dollar investment in Alaska.
Greenpeace campaigner Laura Kenyon said: "Despite the fact that the US government itself admits that there is a 75 percent chance of an oil spill should oil production begin in the Chukchi sea, the Obama administration has still given the first green light to Shell along the way to Arctic oil drilling."
While the price of oil has fallen over the last year, the Arctic is coveted by energy companies for its long term potential. The Arctic is estimated to contain about 20 percent of the world's undiscovered oil and gas.
The Alaska native people the Iñupiat Inuit depend on non-polluted natural resources to eat. The largest city above the Arctic Circle, Barrow, has the ocean on three sides, frozen eight months of the year. The Iñupiat live with the state's lowest average temperatures and know what the cold does to equipment, and how accidents threaten the wildlife they hunt.
Barrow citizen Rosemary Ahtuangaruak said: "To have a little bit of ice like this would clog their vacuum suckers that they would attempt to try to pull up the oil with. Metal becomes more brittle in our environment. When it's very cold things break down more easily. The whales are very sensitive, they have a tremendous olfactory sense and they can actually sense contaminants in the water and they'll avoid an area that's been contaminated."
The Alaskan northern coast has no roads to major cities or ports for many hundreds of kilometres. If something goes wrong, emergency equipment is far away. During Shell's accident-prone 2012 drilling season, the Coast Guard had to evacuate crew from an oil rig that ran aground and was eventually scrapped.