Kerry holds 'frank' talks with Putin in Russia
Comments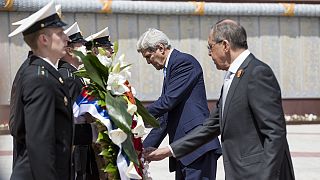 The US Secretary of State John Kerry has had what he calls "frank" talks with President Putin during a landmark visit to Russia – his first since the start of the Ukraine crisis.
The hot topics were numerous: not just Ukraine, but Iran's nuclear programme, Syria, Yemen and Libya.
However perhaps the most important aspect was Kerry's very presence in Sochi at a time when US-Russian relations are at their worst since the Cold War.
Had frank discussions with President #Putin & FM #Lavrov on key issues including #IranTalks, #Syria, #Ukraine. pic.twitter.com/KDHrXgB0oH

— John Kerry (@JohnKerry) May 12, 2015
A US official spoke beforehand of the importance of keeping communication channels open.
Also speaking before the talks began, Putin's spokesman, Dmitry Peskov, welcomed the meeting as a positive step.
"Through dialogue, it is possible to find ways for a normalisation, closer coordination in dealing with international problems," he said, although adding: "Russia was never the initiator of this cooling of relations."
Earlier, Kerry spent more than four hours in talks with Russia's Foreign Minister Sergei Lavrov. The pair attended a World War II memorial in Sochi.
Made a visit to #Zavokzalny War Memorial with FM #Lavrov to honor those who made the ultimate sacrifice during #WWII. pic.twitter.com/PR1c1W7j0V

— John Kerry (@JohnKerry) May 12, 2015
The US wants to test Russian commitment to the Ukrainian ceasefire accord. Washington accuses Moscow of failing to withdraw heavy weapons from eastern Ukraine.
Moscow says accusations that it is to blame for the Ukrainian crisis are groundless, denying that it has been arming separatists and providing military support – despite what NATO and its allies describe as incontrovertible proof.
Moscow accuses Washington of orchestrating last year's overthrow of president Yanukovych.
Relations between the two former Cold War enemies took a nosedive in 2014 when Russia annexed the Crimea peninsula in March and backed pro-Russian rebels in eastern Ukraine.
Despite the gravity of the crises being addressed the atmosphere has been good-natured.
Lavrov arrived in a post-WW II model car named "Victory" and gave Kerry a basket of potatoes, the US Secretary of State having made a similar gesture early last year.