David Cameron: "We are the real party of working people"
Comments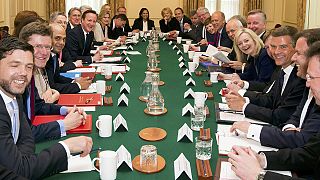 The very first meeting of the new cabinet in the UK has been held.
This is the first time in 18 years there is a fully Conservative party cabinet.
A coalition over the past five years included ministers from the Liberal Democrats.
But now it is a different chapter after David Cameron's party recently won an overall majority.
The Prime Minister told his cabinet:
"I think that it is absolutely vital that in every decision that we take, every policy we pursue, every programme we start, it is about giving everyone in our country the best chance of living a fulfilling and good life, and making the most of their talents.
"That's what this government is going to be about. And some pundits might called it blue collar Conservatism, or being on the side of hardworking taxpayers, I would call it being the real party of working people."
However, the intense debate over membership of the European Union and the growing campaign for Scottish independence also loom large for the new government.