Poland is set for a presidential run-off
Comments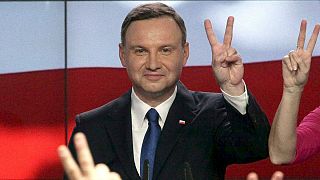 Conservative challenger Andrzej Duda has surprised many by coming top in Sunday's presidential election in Poland.
According to exit polls he garnered around 34% pushing President Bronislaw Komorowski into second place with 32%.
The pair will face a run-off on May 24.
"I assure Mr. President about my will to participate in the next debate. I want to stress very much that Poland needs to make reforms in many areas. I have based my campaign on the message that the name of the future is Poland.," said Andrzej Duda
Addressing his supporters who had gathered in Warsaw's national stadium having expected him to win, Komorowski said he would try to re-connect with voters disappointed with their politicians.
"I think the results of the first round are a serious warning for the current ruling camp. We have to draw conclusions from these results. We must listen to the voice of voters," insisted the president.
Komorowski had presented himself as a safe pair of hands on national security hoping that message would appeal to voters worried after Russia's intervention in Ukraine.
Official first round results are due later today.