Japanese government confirms major shift in military policy
Comments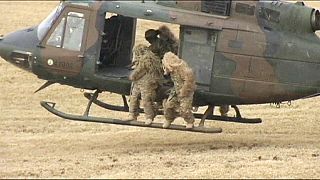 A major shift in Japan's security policy is being planned.
After years of having a pacifist stance, the government has agreed to new draft laws to boost the country's military.
The change would give Japan the ability to fight abroad for the first time since World War Two, and also expand its role in a Japan-US alliance.
Narushige Michishita, the director of the Security and International Studies Programme at the National Graduate Institute for Policy Studies, said:
"I think this marks the turning point in which Japan moves away from traditional isolationism, where Japan doesn't contribute too much to international security, to a more cooperative, proactive internationalism, where Japan would try to contribute more in a proactive manner to world peace."
Observers also say the change in Japan comes at a time when China is asserting itself militarily in the region.
Latest opinion polls, however, show that the Japanese public is divided over the planned new laws.
The bills are expected to be passed, as the ruling party holds the majority of seats in parliament.