An historic trip for France's Francois Hollande in Cuba
Comments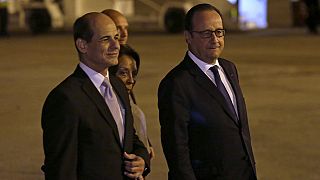 French President Francois Hollande has touched down in Havana, the first French leader to visit Cuba in more than a century.
He is the most high-profile Western leader to visit the country since the historic thawing of relations with the the US, and his visit aimed to transmit a message of EU rapprochement.
"After what Obama's decision regarding the relationship between Cuba and the US, France along with Europe wants to be by their side during this process. With France, Cuba can have a faithful ally," he told reporters at the airport.
Hollande, who was accompanied by 30 business leaders on the trip, is due to meet leader Raul Castro later on Monday.
The EU suspended relations with Cuba in 2003 over a crackdown on dissidents and journalists, but in 2014 it began talks to restore them.