French visit to Cuba eyes trade ties
Comments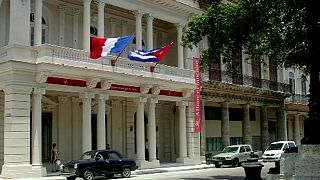 For Cubans the visit of the French President is not merely a sign of diplomatic detente, but also an opportunity for business.
The EU represents the island's second largest economic partner, something which Europe hopes Cuba won't forget as Washington moves to normalise relations with Havana. Francois Hollande was accompanied by 60 CEOs including the heads of Pernod-Ricard, Cuba's partner in exporting Havana Club rum.
At a market in Havana, Cubans expressed their optimism over the French visit.
"I think this could be a great visit, a good option now, for our country and France and a dialogue between them," one local resident told euronews.
"I like the changes we are experiencing a lot, all the cultural exchange that we are going to have, because with this we open doors. That contributes to a change of thinking among young people about how the world is," another resident told euronews.
Though mobile phone ownership is on the rise, web access remains expensive, slow and rare. Cubans are hoping that opening doors to business could help to bridge the digital divide as Euronews correspondent Stefan Grobe reports:
"The French President is visiting a country that is full of hopes for the future. People here want cell phones, internet and economic opportunity. François Hollande's job is to make sure that France and Europe will get their share of helping Cuba get off the ground."