Ukraine joins Europe in marking end of World War II
Comments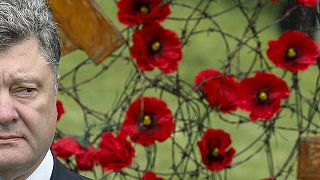 For the first time in 70 years, Ukraine has remembered World War II victims on 8 May, the day when memorial services are held in European countries, reported euronews correspondent Dmytro Polonsky from Kiev.
"And instead of Saint George's ribbons, people now wear red poppies," he added.
The commemorations came 24 hours ahead of Russia.
President Petro Poroshenko was keen to unite those with different views of the war and to set the day apart from Moscow, which Ukraine accuses of stoking a year-old pro-Russian rebellion in its eastern regions.
"I don't really want to wear symbols of people who believe that Ukraine didn't have a great part in the Great Patriotic War," said one woman in Kiev.
Some eight million Ukrainians died in World War Two, roughly half of them civilians.