UK marks Victory in Europe Day with London ceremony
Comments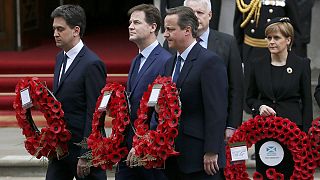 Putting political quarrels aside, UK party leaders paid their respects at the Cenotaph in London to mark 70 years since Winston Churchill declared the end of war in Europe.
Prime Minister David Cameron, Nick Clegg, Ed Miliband and Scotland's First Minister Nicola Sturgeon laid wreaths in memory of those who lost their lives in the Second World War.
Churchill's great-grandson was present to read an extract of his speech broadcast to the nation on May 8 1945 announcing the unconditional surrender of Nazi Germany.
On that day one million people flooded the streets of London, dressed in red, white and blue to celebrate the news, which was tempered by the fact that war continued in Japan. It wasn't until three months later that the Allies declared the end of World War II.
After sunset a chain of 100 beacons will be lit across the country. The houses of Parliament, St Paul's Cathedral and Trafalgar Square which were floodlit to mark VE day 70 years ago will once again be lit up with V-shaped illuminations.