Russia holds biggest ever military parade to mark Victory Day
Comments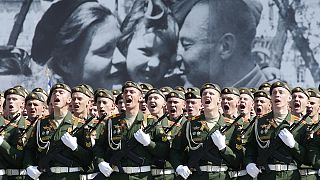 Russia has held its biggest ever military parade to mark the 70th anniversary of the end of World War II, or the Great Patriotic War as its known in Russia.
More than 16,000 soldiers, sailors and airmen took part in the the parade through Moscow's Red Square.
There were smaller but similar demonstrations of Russia's military might in dozens of other cities across the country.
Several foreign countries also took part in the show of strength, among them China and India.
But the parade was also marked by the absence of dozens of Western heads of state, most notably European Union leaders who've stayed away in protest over Russia's annexation of Crimea last year and its stance over Ukraine.
In his Victory Day address, President Vladimir Putin warned that global tensions were growing again, threatening progress and the peaceful coexistence of nations.
"In recent decades, we've seen attempts to create a unipolar world. We see how a military bloc mentality is gaining momentum. All this is undermining the stability of global development."
The ceremony ended with the laying of a wreath at the tomb of the unknown soldier.