Four killed after Airbus military plane crashes in southern Spain
Comments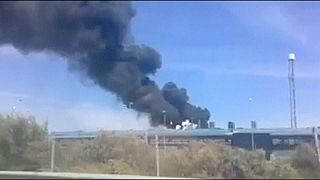 A military plane has crashed during a test flight in southern Spain near the city of Seville.
Of the six people on board only two survived though they were seriously injured.
All of them were Spanish Airbus employees.
The Airbus A400M reported problems shortly after take off and crashed into an electricity pylon while attempting an emergency landing.
This is the first accident involving Europe's new troop and heavy cargo carrier but it has had a rocky ride coming in to service.
The A400M Atlas was developed for Spain and six other European NATO nations at a cost of 20 billion euros.
After it entered service three years late in 2013, Airbus continued to have problems delivering the planes on time and with all the required military features on board.
There is no word yet if this crash will effect further test flights or the operation of other A400Ms already in use.