6,400 Chinese employees treated to record breaking French holiday
Comments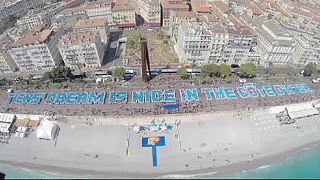 A Chinese company has taken 6,400 employees on a four day record breaking trip to France.
They rounded off the adventure by creating the world's longest human made phrase.
Wearing sun hats in different colours, the workers from Tiens Group lined up to spell the words:
"Tiens' dream is Nice in the Cote d'Azur."
The message, which was visible from the sky, broke a Guinness World Record.
Li Jinyuan founded the Tianjin based conglomerate 20-years-ago, starting with the sale of Traditional Chinese Medicine (TCM) as well as calcium tablets and instant coffee.
He was listed on the 2011 Forbes list of world's billionaires.
Li said "We chose Nice because it is the most beautiful city in the world. And for Chinese, to be between mountains and the sea is incredible. This is why we have invited our best employees for this trip."
The group had earlier visited Paris where they booked up 140 hotels and were given private access to the Louvre.
According to Le Parisian newspaper they made purchases estimated at around 13 million euros, partly on luxury goods.
Li met the French Foreign Minister Laurent Fabius.
The cult of personality surrounding the Tiens chairman was clear as he drove the length of the Promenade des Anglais in a World War Two Jeep.