US Senate supports bill for Congress role in Iran nuclear deal
Comments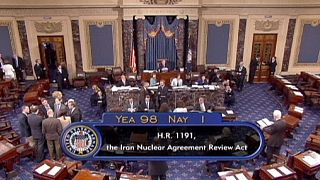 The US Senate has voted overwhelmingly to pass a bill giving Congress the right to review, and potentially reject, an international nuclear agreement with Iran.
The House of Representatives will now consider it as early as next week. The White House has said that President Barack Obama would sign it into law if it also passes the House, as expected.
It comes after months of negotiations over how Congress could make its voice heard in the talks, which are the US and five other world powers are holding with Iran over its nuclear programme.