Nine things that happened on UK election night
Comments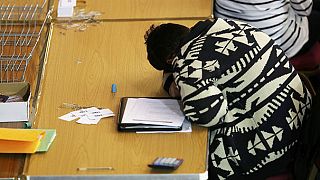 It was an eventful night in the UK election, here's a wrap-up of some of the more quirky and unexpected details.
1: There's a big mismatch between how many votes the parties got and how big their representation in Parliament will be.
This is because in the UK's first past the post system, a seat is allocated to the winner in each part of the country. So parties with strong support in particular regions, like the SNP in Scotland can gain a lot of seats, while others whose popularity is spread over a wider area, like Ukip gets many fewer.
In fact, the SNP gained about 5 percent of the vote and 56 seats, while Ukip's 13% of the vote has earned them just 1 seat. The Ulster Unionists of Northern Ireland won 8 seats for just 0.4 percent of votes.
2: The Lib Dems were expecting things to be terrible. In fact they were much, much worse
Former leader Paddy Ashdown promised on live TV to eat his hat if the party did as badly as exit polls predicted and won only 10 seats. In fact they won 8 but the politician declined to come good on his pledge [Lib Dem supporters might see an irony there].
Party bigwigs like Vince Cable, Simon Hughes, Danny Alexander and Charles Kennedy all lost their seats.
3: The biggest winner of the evening wasn't even standing
Nicola Sturgeon, the leader of the
SNP
, is first minister in Scotland so wasn't standing for election in Westminster. But as this picture shows she was by far the happiest leader on the night
4: The real wildcards got nowhere
The one thing that went exactly as expected was that the tiny parties got tiny votes:
The Class War party gained 500 votes across the nation, the Monster Raving Looney party got 3,500 and the Yorkshire First party got almost 13,000
5: Britain has its youngest MP since 1667
The 20-year-old, a student at Glasgow University, had to defeat Labour's campaign chief Douglas Alexander in Paisley and Renfrewshire South.
Here is one of her campaign videos
6. Maggie Simpson predicted the result
That predicted UK map post-election. Or #thesimpsons? #GE2015pic.twitter.com/gVldpWmY7j

— Alex McLaughlan (@alexmclaughlan) Mayo 7, 2015
7: David Cameron was mocked for a Tweet that looked similar to someone else's
The Prime Minister's victory tweet …
Here's to a brighter future for everyone. pic.twitter.com/EeN0YFAvBm

— David Cameron (@David_Cameron) May 8, 2015
… looked very similar to Barack Obama's
Four more years. pic.twitter.com/bAJE6Vom

— Barack Obama (@BarackObama) November 7, 2012
Except of course that the prime minister seemed to have put his nose in his wife's eye.
samuelmarchant</a> there&#39;s nothing I crave more than David Cameron&#39;s nose in my eye</p>&mdash; Danny Morris (DannyMMorris) May 8, 2015
8. We'll never forget Millifandom [sic]!
#Millifandom reaching the youth of Lancashire. pic.twitter.com/aiNPcZup8l

— Karen Traynor (@KarenTraynor1) May 3, 2015
#millifandom gives Ed soaring approval & makes Cameron look like dated19th century toff. #Ge15http://t.co/8HJVvbKf1Gpic.twitter.com/lHxxmAksOW

— Pearly McQueen (@pearlymcqueen) April 23, 2015
Abby, founder of the so-called Millifandom [sic] movement, seems devastated that the subject of her affections will not run the country, despite her best efforts.
#ThankYouEd from the #milifandom we'll always love you https://t.co/3ZaOT8S6UB

— abby (@twcuddleston) May 8, 2015
I miss Ed already

— abby (@twcuddleston) May 8, 2015
Ed Miliband has announced his resignation from the UK's Labour Party. His next move remains to be seen.
What next #millifandom#JeSuisEd ? Well, #BritishSandwichWeek is around the corner. Nationwide tour with Kingsmill? pic.twitter.com/zyNIswb0BK

— Henry Makiwa (@makiwahenry) May 8, 2015
9. Pop music superstars
Based on the losing trio's performance in this pop video, a music career must surely not be ruled out. What would Nigel, Nick and Ed call their 'man band'? Um, a Milli-band?
The Millifandom supporters would love it.