Clegg resigns in wake of LibDem wipeout
Comments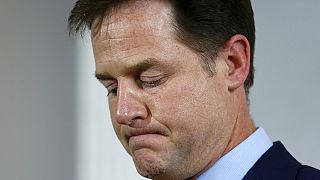 One of the election results that was no surprise was the hammering dealt out to the Liberal Democrats, but it was a disaster of epic proportions for the outgoing coalition's junior partner.
The result leaves the LibDems with only eight seats, back to where the Liberals were in the 1970s.
"I always expected this election to be exceptionally difficult for the Liberal Democrats, given the heavy responsibilities we've had to bear in government in the most challenging of circumstances, but clearly the results have been immeasurably more crushing and unkind than I could ever have feared. For that of course I must take responsibility, and therefore I announce I will be resigning as leader of the Liberal Democrats," said a dejected-looking Nick Clegg.
Clegg said the Liberals could ensure the Conservatives governed with heart, while it would ensure Labour governed with a brain. It was an offer the electorate roundly rejected.