Nicola Sturgeon sets out two triggers for new Scottish referendum (full interview)
Comments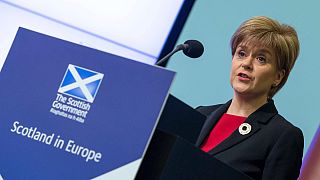 Scotland could hold a second independence referendum if the Scottish National Party wins a parliamentary majority in the country's elections next year, Scottish First Minister Nicola Sturgeon has said.
I can't impose a referendum or independence on the Scottish people
In an interview with Euronews, the Scottish National Party leader, whose party has a longstanding commitment to creating a separate country north of the border with England, set out two situations in which a new vote on the issue could be held.
The first would be in the event that a separate referendum promised by UK prime minister David Cameron an overall majority of Britons backs leaving the European Union, against the wishes of Scottish voters.
The second would be in the event that the SNP pledges a new independence referendum in its manifesto for Scottish elections next year and regains its majority. Given results in last month's general election, where the SNP virtually eliminated all the other parties on its territory, the second part of this equation is highly likely.
"I'll come back and talk to you again when we publish our 2016 manifesto," said Sturgeon. "Firstly, a party has to propose it [a new independence referendum] in a manifesto. Whether that's the SNP or another party, presumably it would be the SNP. But then people have to vote for that manifesto. And they have to vote for it in sufficient numbers to give that party a majority in the Scottish parliament."
"I can't impose a referendum or independence on the Scottish people. It will always be driven by the democratic wishes of the Scottish people."
The Scottish public voted to remain in the United Kingdom in September 2014 with 55.3 percent of the electorate expressing a preference for the status quo.