Candidates go to vote in closest British election in a generation
Comments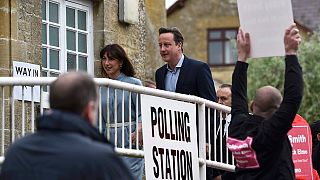 The weeks of campaigning have ended and it's now time to decide.
Millions of UK voters go to ballot boxes today to decide who will lead the country.
David Cameron went to mark his paper in his constituency of Witney in Oxfordshire.
He will soon find out if he must move out of the Prime Minister's residence in Downing Street.
Hoping to take the keys to the famous black door is the Labour leader Ed Miliband.
But the latest opinion polls put the two parties equal on just above 30 percent of the vote, meaning they'll likely need to search for support elsewhere.
Coalition
UKIP under Nigel Farage is now the third-largest party, polling around the 12 percent mark.
But the anti-EU leader has a battle on his hands as the Tories have made huge gains in the South Thanet constituency he is contesting.
The SNP leader Nicola Sturgeon is on a high. The Scottish nationalists' projected clean sweep north of the border will likely prove pivotal.
Meanwhile, holding the centre-ground is Nick Clegg at the head of the Liberal Democrats.
Polling around 10 percent, he has indicated a willingness to join a coalition with either side, to prevent a lurch to the right or left.
After a long election campaign, this is looking like one of the closest contests in British history.
The results will start coming through at midnight, local time, with all the votes set to be counted and verified by Friday afternoon.
Follow election night live from 10pm on May 7 on euronews.com