Immigration rates as a hot election topic in London's Bethnal Green
Comments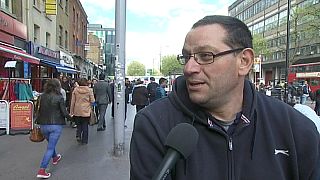 Immigration is one of the hot topics of Britain's forthcoming general election.
Euronews reporter James Franey went to Bethnal Green, one of the most ethnically diverse parts of London to find out if locals saw it as a major concern.
The area has long history of welcoming people from abroad from French Huguenots in the seventeenth century to Jewish refugees in the last.
These days, one-third of residents are of Bangladeshi origin.
But with unemployment in the impoverished constituency above the London average, would potential voters still be welcoming to immigrants in today's economic climate:
Omar who ia an Algerian but has lived in London for 28 years was selective as to who he wanted to welcome into the country:
"Get the right people in. We don't want people wandering about. Turning up in the country. Having the help ( claiming benefits) and for no reason."
"It's a problem for local people, especially for jobs. A lot of people are losing their job because European people are coming and they work (for) less salary," said Abdul Raheem.
While Terry appeared conflicted about the issue:
"I'm not a racist, because I believe in immigration. It's not saying that you are not welcome here because we have welcomed everybody with open arms. And we help you abroad in your own countries, with your own dilemmas. Your earthquakes. Your this-and-your -that. That's Britain for you."
According to a government-backed survey published last month, British voters consider immigration as the third-most important topic in this election, behind that of the future of the health service and, in first place, the economy.