UKIP's Nigel Farage stakes political future on close race in South Thanet
Comments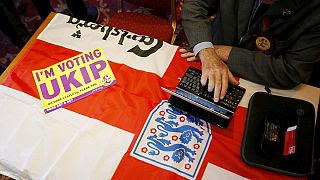 The constituency of South Thanet is one of the key battlegrounds in the UK election.
Nigel Farage, the leader of the anti-immigration UK Independence Party (UKIP), is contesting the seat – and staking his political future.
The ruling Conservatives took the seat from Labour at the last election in 2010, and immigration is a big talking point.
One woman told euronews: "What's happening in our country is making us prejudiced and we're not prejudiced people. We love everybody, we go on holidays abroad, and we love everybody. But there's only so much the people can take."
A man said: "You know we've still got to stick with Cameron because it's better the devil-you-know. At least he's trying to sort things out. He's given us the option of a (European Union membership) referendum next year."
Euronews' James Franey reported: "A failure by Nigel Farage to win this seat in the House of Commons could come at a high personal price. The British MEP says he'll resign as party leader if he loses this contest."
Farage, who attempted to win the same seat back in 2005, has called for an overhaul of the British political system.
He told reporters: "We have got totally negative politics in this country and I'm beginning to think that's a product of the first-past-the-post system: "Please vote for me, we're not quite as ghastly as the other people".
"If we had a form of PR (proportional representation), you might actually get people saying vote for us, because this is what we stand for.''
The Conservatives and UKIP are neck and neck in the constituency of South Thanet.
Craig Mackinlay is the Conservative candidate, and someone who knows his closest rival well.
Mackinlay was once the deputy leader of UKIP, but eventually defected to the Conservatives in 2005.
On the question of Europe, he claims there is only one choice.
"There is only going to be one of two prime ministers," he told euronews. "It's either going to be David Cameron or Ed Miliband.
"The only party that is capable of being in government – that I anticipate will be in government – is Conservative. And we have now given a cast-iron guarantee that there will be renegotiation and a referendum. Any other vote means that will not happen."
But it is not just immigration and Europe. With tourism and fishing among the top industries here, the state of the economy has also been a big talking point.
Follow election night live from 10pm on May 7 on euronews.com
DAILYEXPRESSFRONTPAGE: "Why you must vote for UKIP , says Nigel Farage" #skypaperspic.twitter.com/otTfzGrYzy

— Sky News (@SkyNews) May 5, 2015
The crowd waiting for my speech tonight at #UKIP's #SouthThanet rally… pic.twitter.com/9PKgG41YQl

— Nigel Farage (@Nigel_Farage) May 6, 2015
Farage has promised to resign the Ukip leadership if he fails to be elected on Thursday #GE2015 – https://t.co/C1DapWsrVN

— EUobserver (@euobs) May 6, 2015
It's looking increasingly likely that Nigel Farage will lose in South Thanet http://t.co/FqGHBaGC4ppic.twitter.com/0YjkBmiuQQ

— The Independent (@Independent) May 5, 2015