UK election system bodes complex outcome
Comments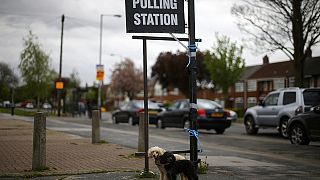 UK elections used to be simple. On the whole people would vote for one of the two main parties, and newspapers would grandly state which one they were backing.
The papers still do that – but the rise of what were once fringe parties and the decline of the big guns means neither is expected to win an overall majority.
The path to forming a government is set to become difficult, according to one analyst.
"The Labour party has a clearer path to government (than the Conservatives) because there are more parties opposed to backing the Conservative party than there are (parties opposed to backing) the Labour party. However, because we think the Conservative party will come out with the most votes (Ed: seats), we think that the Liberal Democrats will go and talk to them first. And they (the Liberal Democrats) admitted as much a couple of weeks ago," said Danielle Haralambous, political analyst with the Economist Intelligence Unit.
At stake, beyond this election, is Britain's membership of the European Union.
David Cameron's Conservatives are promising a simple In-Out referendum by the end of 2017 – BUT on terms re-negotiated with Brussels that no-one yet knows.
"Mr. Cameron is saying of course that he is going to give a vote (a referendum on Europe) , but nobody knows what the vote is going to be about. And that leaves people confused . There's a lot of, what we call, 'political speak' with people talking in terms of things that aren't real – with the exception of Mr Farage actually," said political commentator Charlie Wolf.
Nigel Farage's United Kingdom Independence Party (UKIP) wants Britain out of the EU under any circumstances.
Meanwhile, the general election is putting the UK's "First-past-the-post" electoral system under more pressure than ever. It is based on a scenario where the winner takes all – assuming there is one.
Euronews correspondent James Franey reports from London:
"Another election and it looks like another parliament where no party will command a majority. If the polls are right, British voters seem deeply unsatisfied with the current political system, which has been dominated by the Conservatives and Labour for decades. The calls for reform are likely to grow ever louder once a new government is in place."
Follow election night live from 10pm on May 7 on euronews.com