Saudi Arabia proposes five-day truce in Yemen
Comments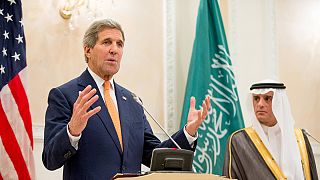 Saudi Arabia has proposed a five-day truce in Yemen following appeals from US Secretary of State John Kerry for a pause in the fighting to allow humanitarian aid into the war-torn country.
However, the ceasefire hinges on the cooperation of the Houthi rebels.
"We will have several days between today's announcement and the actual start of the ceasefire," announced Kerry at a news conference. He added that the time would be necessary "in order to allow time for the international community to prepare the food, the medicine and the other supplies for distribution so they can be done in an orderly and efficient process once the ceasefire does take effect, if the Houthis accept the conditions."
The Saudi-led coalition began airstrikes against the Houthi militia on March 26 in order to restore the government of President Hadi who was forced to flee his residence in Aden, taking refuge in Riyadh. Human Rights Watch has accused the Houthis of possible war crimes including using snipers to shoot civilians and kidnapping local aid workers.
Since the outbreak of the conflict, more than 1,200 people have been killed and the UN estimates some 300,000 have been displaced throughout the country.