Golden Dawn trial adjourned a second time
Comments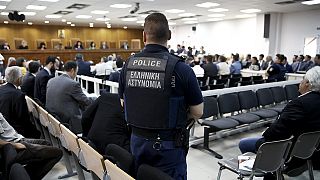 The trial of Greece's right-wing Golden Dawn party has been adjourned for a second time.
Organisational concerns were cited as the reason for the suspension of proceedings until the 12th of May, but the defendants also refused to appear before judges at the Athens prison once again.
Sixty-nine party members face charges including belonging to a criminal group and murder. That charge follows the 2013 killing of an anti-racism rapper whose mother was present at the prison courthouse.
Many have questioned the suitability of the prison to carry out such a politically sensitive trial. Local politicians fear clashes between supporters of Golden Dawn and anti-fascist groups who are keen to see the party condemned.
It is the first time the entire leadership of a party has been put on trial in Greece, a party that came third in the elections in January.
In Athens euronews correspondent Stamatis Giannisis said: "Once again the leadership of Golden Dawn refused to be present in court in an effort to imply that the heavy criminal accusations against them are the result of a political plot aimed at reducing the popularity that this neo-fascist party enjoys."