Renzi reform to give more power to Italy election winners
Comments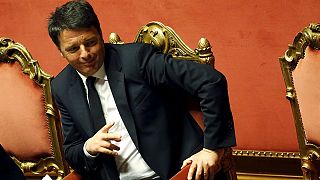 Italy's parliament has passed a new electoral reform championed by Prime Minister Matteo Renzi.
From July 2016 the electoral system will be based on proportional representation but ensure a greater majority for the winning party.
The Italicum bill was passed with 334 in favour to 61 against, though most opposition lawmakers refused to attend the vote.
This means that some 40-50 dissidents in Renzi's own party must have voted against him.
Maria Elena Boschi the minister of Institutional Reforms said:
"Mission accomplished. The government has accomplished the task that it had promised to the citizens: making Italy a country where, the day after the elections, one knows who has won.
"The electoral law is the symbol of a government that does not only announce reforms but that is serious about them. We have realised what we promised."
The Prime Minister echoed those sentiments in a tweet after the vote.
He says the reform will provide political stability in Italy, which has seen four different governments in the last decade.
Opponents complain it gives too much power to the winning party.
Many expect the main beneficiary of the legislation will be Renzi himself as opposition remains weak.