One the most famous ballet dancers in the world, Russian Maya Plisetskaya, dies of a heart attack
Comments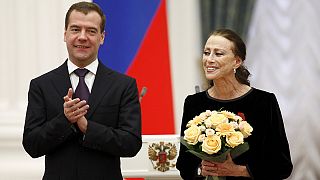 One the most famous ballerinas in the world, Russian Maya Plisetskaya, had died of a heart attack in Germany at the age of 89.
Born in 1925 she started at the Moscow Ballet School in 1934 at the age of nine.
She went on to dance for almost 60 years, 50 of them with the renowned Bolshoi ballet, winning numerous awards throughout her career.
In her later years she lived predominantly in Germany but would still occasionally visit Moscow and St Petersburg with her husband, the composer Rodion Shchedrin, who wrote the score to a number of her ballets.
In statement released by the Kremlin, Russian President Vladimir Putin expressed his deep condolences to the ballerina's family and friends.
The Russian Prime Minister Dmitry Medvedev said that with her death a "whole era of ballet was gone."
As soon as the news broke messages of condolences started to appear on social media.