US-led airstrike kills 52 civilians, including 7 children
Comments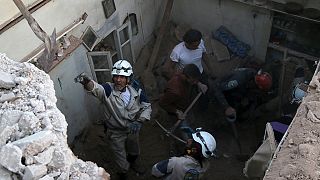 A group monitoring the conflict in Syria has reported fifty-two civilians have been killed by a single US-led airstrike.
The Syrian Observatory for Human Rights at least seven of the dead were children.
US-led airstrike in Aleppo province
The group said the attack on Birmahle city in Aleppo province mistakenly killed members of at least six families.
Kenneth Roth, Executive Director of Human Rights Watch said the target of the attack, the group calling itself "Islamic State" (ISIL) was just "two kilometers away" and asks "what went wrong?"
US reportedly kills 52 Syrian civilians in Birmahle. ISIS was 2 km away. What went wrong? http://t.co/VQAwkGf92wpic.twitter.com/XzANTzdljy

— Kenneth Roth (@KenRoth) May 2, 2015
'Terrorist' rocket attacks on Aleppo city
Meanwhile Syrian television has broadcast this footage it says shows victims of terrorist rocket attacks in residential areas of Aleppo city on Saturday.
Syrian news agency SANA says 14 civilians were killed in the attacks. Sixty others have been injured, mostly women and children.