Russia's WWII Victory Day will not be shared by former Western allies
Comments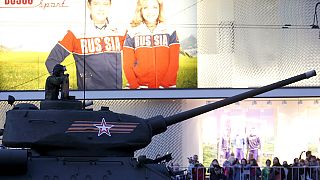 In Moscow, rehearsals by night have been leading up to Russia's celebration of Victory in the Second World War.
Western leaders will not see it this year, boycotting the military parade. This is to drive home condemnation of President Putin's support for pro-Russian separatists in Ukraine fighting government forces in the east.
Pride for the bygone Soviet Union has focused on Communist symbols and billboards with war leader Joseph Stalin, under whose rule Nazi Germany was finally crushed.
Yet citizens are divided.
Muscovite Alexei Frolov said: "I think he made a great contribution to victory. It was thanks to him that we won the war. He also industrialised the country, created heavy industry. In my opinion, his contribution was really great."
Resident Fora Petrosyan underscored: "Stalin killed so many people. All those gulag labour camps were set up during his rule. From what I heard, Hitler learned how to build camps like that from him."
The dictator's face also graces posters in Sevastopol in Putin-annexed Crimea for the May 9th celebrations, with Victory Day greetings in Russian.
Ukraine never glorified Stalin.