Italy: Students protest on eve of World Expo showcase in Milan
Comments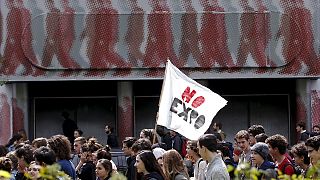 Student protesters marched in Milan on Thursday, a day before the 2015 Universal Exposition opens there.
Critics denounce corruption scandals surrounding the showpiece event as well as what they see as a waste of public money and the exploitation of volunteer labour.
And this is just the beginning. Thousands more protesters are set to
demonstrate on May Day itself to mark the opening
Security is tight amid fears things could turn ugly.
In raids aimed at rooting out potential troublemakers, several people have been detained, including French and German citizens.
Items like pickaxes, gas masks and baseball bats have reportedly been seized.
The government is counting on the Milan Expo to reinforce fragile signs of recovery in Italy.
Prime Minister Matteo Renzi wants it to help his drive to put a more modern face on the country after the years of recession.
Officials expect some 20 million people to visit the six month-long exhibition of products and technologies from around the world.
They hope it will bring in 10 billion euros, half of it from foreign visitors.
The event is seeking to broaden its appeal with interactive exhibits such as a supermarket of the future, cultural events and shows at an arena and an artificial lake.
Some 145 countries are taking part in the Expo, which has 'Feeding the Planet, Energy for Life' as its central theme.