France boosts defence spending over terror threat
Comments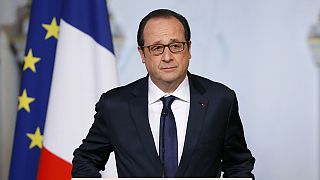 The sight of soldiers on foot patrol is to become a long-term feature in France after the government announced it is to boost defence spending in the face of security threats. The military budget has been increased by almost 4 billion euros between now and 2019.
Much of it will go to reinforcing overseas missions in Africa, where specialist forces are supporting local efforts to counter extremist movements. Plans to cut troop levels as part of an austerity drive have also been extensively scaled back.
President Francois Hollande stressed the need to maintain security operations at home and abroad: "To give the French people confidence: they have it with regard to their armies, they have it with regards to the political authorities who take the decisions, but they should know the necessary funding is being made available to achieve these goals. Security, protection, and independence are principles that are not negotiable," he said.
France has been on a state of high alert since the Charlie Hebdo terrorist attacks in January, in which 17 people were killed by jihadists.
Recently, security officials said they had uncovered a number of other planned terror attacks in France, underlining the need for continued vigilance.