Australia recalls ambassador over Indonesian executions
Comments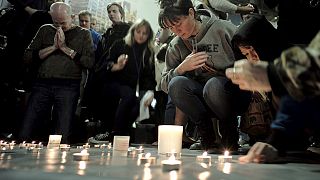 Indonesia's execution of eight convicted drug-traffickers from several countries has strained diplomatic relations. Australia has recalled its ambassador and Brazil is evaluating ties with Jakarta.
Australian's Andrew Chan and Myuran Sukumaran were executed by firing squad along with six others from Nigeria, Ghana Indonesia and Brazil.
pleas for clemency
Pleas from Canberra for clemency until a criminal investigation was complete were disregarded.
Australian Prime Minister Tony Abbott expressed his anger:
"These executions are both cruel and unnecessary. Cruel because both Andrew Chan and Myuran Sukumaran spent some decade in jail before being executed; and unnecessary because both of these young Australian were fully rehabilitated while in prison."
Australian condemnation after Indonesia execution reports http://t.co/VAiAaZFBNypic.twitter.com/Srnsjp6G3z

— Rappler (@rapplerdotcom) April 28, 2015
There were celebrations in Manila when a ninth drug offender, Filipina Mary Jane Veloso was granted a stay of execution pending further investigations.
Indonesia has some of the toughest drugs laws in the world and ended a four-year moratorium on executions in 2013.
Amnesty International has described the executions as "utterly reprehensible."
Indonesia's execution of 8 people for drugs offences is shocking. Yet it is far from the world's worst executioner pic.twitter.com/7nKbvtyNNy

— The Economist (@ECONdailycharts) April 28, 2015