Indonesia executes drug convicts despite international appeals
Comments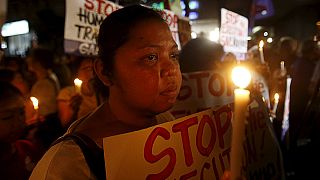 Indonesia has gone ahead with the executions of eight out of nine drugs offenders who had been on death row.
A woman from the Philippines has reportedly been spared at the last minute after an alleged accomplice surrendered to police.
The two Australians, three Nigerians, a Ghanaian, a Brazilian and an Indonesian were executed by firing squad, in spite of international appeals for clemency.
Earlier the mother of one of the two Australians, Myuran Sukumaran, said her son was due to be shot at midnight local time.
Australia had appealed for the executions to be delayed to allow investigations into alleged irregularities to be completed.
The executions took place at the Nusakambangan prison island in central Java.
Indonesia has some of the toughest drugs laws in the world and ended a four-year moratorium on executions in 2013.