US Supreme Court to consider whether gay marriage is a constitutional right
Comments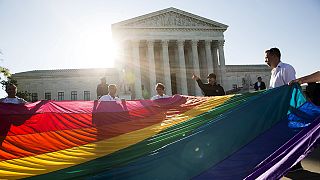 Demonstrators from both sides of the argument gathered outside the US Supreme Court as it prepared to hear whether same-sex marriage should be a constitutional right nationwide.
Nine judges are due to determine the issue by the end of June.
With four liberal judges expected to back gay marriage, all eyes are on one conservative who could cast the decisive vote.
In the past Justice Anthony Kennedy has broadened the court's view of sexual equality.
Same-sex marriage is currently recognised in a 37 American states and Washington DC.
The legal arguments centre on four of 13 states that currently ban it: Kentucky, Michigan, Ohio and Tennessee.
Public support for gay marriage has steadily grown in recent years. It's particularly strong among younger Americans. Barack Obama is the first sitting president to support it.
The Supreme Court must decide whether legal guarantees of due process and equal protection oblige states to allow same-sex marriage – and whether they must recognise such marriages from other states.