Time running out for Nepal earthquake survivors as death toll hits 4,000
Comments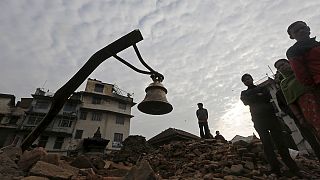 Time is running out in the search for survivors among the rubble of collapsed buildings after Saturday's devastating earthquake in Nepal.
People are wondering how they will ever get home
The death toll has reached about 4,000 with nearly twice that injured but there are fears that once the rural areas are reached the number of dead could top 7,000.
While many are still in a state of shock , search and rescue teams are still digging their way through the debris hoping for miracles.
For others their main aim is to get home by any means possible to see if their families are safe as migrant worker Santosh Kumar explained:
"With the kind of atmosphere prevailing here every one is worried, and feeling rather low. People are wondering how they will ever get home."
Santosh was only one of thousands who streamed out of the city on Monday. Roads leading from Kathmandu were jammed with people, some carrying babies, trying to climb onto buses or hitch rides aboard cars and lorries to the plains. Long queues formed at the airport.
Stranded Israelis in Nepal say locals 'growing violent': Mass exodus from Kathmandu as death toll tops 4,000; … http://t.co/SCYKv2pfd7

— Israel News Links (@dlisraelnews) April 27, 2015
Foreign countries have escalated efforts to get medical equipment, medicine, food and water blankets and tents into Nepal, but chaotic scenes at the country's main airport has slowed the flow of help. Only gradually is it reaching the most vulnerable.
On Monday evening further tremors were felt sending locals rushing out of their homes.
For the most part, Kathmandu's one million residents have slept in the open since Saturday, either because their homes were flatterened or they were terrified to that after shocks would bring them crashing down.