Iran's seizure of cargo ship in Gulf appears to be 'provocative' act, says US
Comments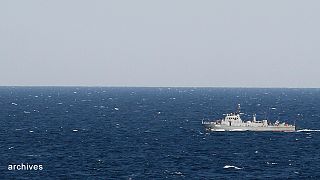 The US says its monitoring a Marshall Islands-flagged cargo ship, which has been boarded by Iranian forces in the Gulf.
The MV Maersk Tigris made a distress call in the Strait of Hormuz, one of the world's most important oil shipping channels.
Location of the Maersk Tigris (non-US) cargo vessel seized by #Iran forces — via the business</a> map tool <a href="https://twitter.com/hashtag/oil?src=hash">#oil</a> <a href="http://t.co/76q7Ahn07G">pic.twitter.com/76q7Ahn07G</a></p>&mdash; Javier Blas (JavierBlas2) abril 28, 2015
The Pentagon says patrol boats fired warning shots across its bow and ordered it into deeper Iranian waters. There has been no immediate comment from Iranian officials.
Earlier media reports suggested the the cargo ship was American, but this has been denied.
Maersk Tigris identified as US ship taken by #Iran , Pentagon says no US citizens aboard. pic.twitter.com/kQuJaKLCXc

— Joyce Karam (@Joyce_Karam) abril 28, 2015
According to the Pentagon, the interception appears to be a "provocative" act, but US officials did not have all of the facts surrounding the incident.
Colonel Steve Warren, a Pentagon spokesman, said the decision by Iranian naval forces to fire warning shots over the bow of the ship was "inappropriate."
He added that a US Navy destroyer was headed in the direction of the shop to monitor the situation.
A US Navy maritime patrol and reconnaissance aircraft was also dispatched.
According to the English language service of Iran's semi-official Fars News Agency, the Iranian navy seized a ship at the request of Iran's Port and Maritime Organisation.
"The ship is a trade vessel and has been seized by the Iranian navy," said Fars, citing what it called an informed source.
"The ship was seized after a relevant court oder was issued for its confiscation," the source was quote as saying, referring to difference between the ports organisation and the vessel's owner. It did not identify the owner.