Hidden among tea leaves: 3.1 tonnes of African ivory discovered
Comments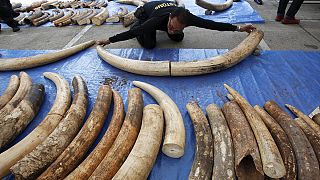 Customs officials in Thailand have seized 3.1 tonnes of African elephant ivory, worth over 5 million euros.
Some 511 pieces, originating from Mombasa. Kenya, were confiscated in what is the second largest seizure of ivory recorded in Thailand.
Believed to have been en route to Laos, the contraband was hidden in bags of tea leaves.