Australia makes final plea for stay in execution of Bali 9 pair
Comments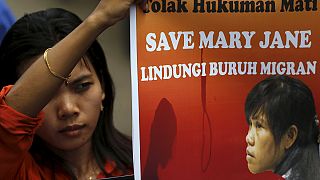 With the diplomatic row between Canberra and Jakarta deepening, Australian officials have made a last-minute plea for a stay in the execution of two convicted drug traffickers.
The case has provoked strong reactions on an international scale, with many calling for the death penalty to be dropped for a lighter sentence.
Race against the clock
Myuran Sukumaran and Andrew Chan, leaders of the 'Bali 9' drug smuggling ring, have been sentenced to death by firing squad. On Saturday (April 25), they were told they would be executed within 72 hours.
Australia's foreign minister, Julie Bishop said allegations of corruption during the trial needed to be investigated. The pair's former lawyer claims a judge in the trial had demanded 130,000 dollars in exchange for a lighter sentence.
Jakarta intervened, according to the lawyers account, and the deal was never struck. Other members of the smuggling ring have had their terms reduced; some from a death sentence to life imprisonment.
Prime Minister Tony Abbott addressed the corruption issue and made another plea during an official visit to Paris.
"We abhor the death penalty. We oppose it at home, we oppose it abroad and I want to reassure Australians that, even at his late hour, we are continuing to make the strongest possible representations to the Indonesian government that this is not in the best interest of Indonesia," he said.
His speech came as former Indonesian president, Susilo Bambang Yudhoyono, cancelled a scheduled three-day trip to Perth, Western Australia.
Last requests
Myuran Sukumaran and Andrew Chan are currently being held in a prison on Nusakambangan Island, also known as 'Death Island.' They are among nine expected to imminently face a firing squad. Indonesia is said to be considering the fate of one of the group, Filipino woman Mary Jane Veloso, who claims she was tricked into drug smuggling.
One French citizen, Serge Atlaoui, has received a temporary reprieve, although the reasons for this are unclear.
Sukumaran and Chan will say their farewells to family members on Tuesday afternoon, local time. They are said to have put in their last requests, including nominating people to bear witness to their executions. Sukumaran has asked a senior pastor from Melbourne, Christie Buckingham, to be with him during his final hours. Chan nominated Salvation Army minister David Soper.
Bali nine pair Chan and Sukumaran choose their execution witnesses http://t.co/x9lBIIDKGA#Bali9pic.twitter.com/Fd3ezyYQPk

— The Age (@theage) April 27, 2015
Coffins delivered
Witnesses report seeing nine coffins and crosses being delivered to the local police station on Sunday evening. The exact time at which the executions are expected to take place has not been announced.
In their final hours, Myuran Sukumaran and Andrew Chan are keeping hope alive. http://t.co/srPlvx1rSbpic.twitter.com/bJcVCf9Vv5

— The Australian (@australian) April 27, 2015
Andrew Chan and Myuran Sukumaran will be executed Wednesday. Aussie politicians have called for mercy. #Bali9#9Newspic.twitter.com/5hItwb8m4o

— Nine News Brisbane (@9NewsBrisbane) April 27, 2015