Leftist Akinci sweeps to victory in Turkish Cypriot presidential election
Comments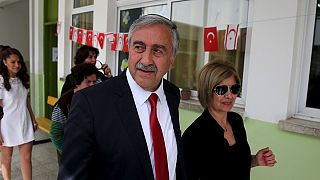 Early results show that leftist Mustafa Akinci has swept to victory in the Turkish Cypriot presidential poll.
According to election commission officials, he has secured 60.3 percent of the vote, beating incumbent Dervis Eroglu – a conservative elected five years ago.
Akinci – standing as an independent – has promised to push harder for a peace deal in ethnically-split Cyprus.
Peace talks were suspended last October, when Greek Cypriots walked out of the process in a row over Turkish rights to explore for natural gas off northern Cyprus.
Cyprus is represented internationally and in the EU by the Greek Cypriot government, which controls the southern portion of the island.
Only Turkey recognises the self-declared Turkish Republic of Northern Cyprus.