Indonesia: Seven drug convicts will be executed in days
Comments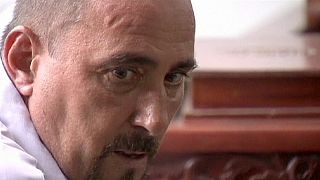 Seven drug convicts on death row in Indonesia have been told they will be executed in a matter of days, despite pleas for clemency.
Families have started arriving at the prison island of Nusakambangan where they are being held.
Ten prisoners were originally expected to face a firing squad together. Nine of them are foreigners, including nationals from Brazil, France, Ghana and the Philippines.
"How could anybody in conscience take someone else's life knowing that there are doubts about their innocence. Why are they in a rush? Why can't they wait for a little more time?" asked a lawyer representing one of those facing execution.
Andrew Chan and Myuran Sukumaran, two Australians arrested as ringleaders of the "Bali Nine" drug-smuggling group, are said to be among the seven facing execution in the next few days.
A temporary reprieve has been granted to French citizen Serge Atlaoui. An embassy official says he will not be in the next round of executions, although the reasons are unclear.
France has warned Indonesia that it could damage relations, while Australia has repeatedly pleaded for clemency.