Fourteen migrants hit by train and killed in former Yugloslav republic of Macedonia
Comments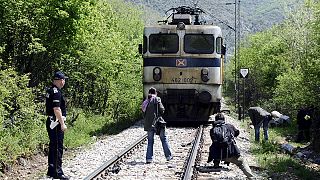 Fourteen migrants have been hit by a train and killed in the former Yugoslav republic of Macedonia.
It happened near the city of Veles, as the group walked through a canyon, along a route increasingly used by people trying to reach western Europe.
Rescue efforts have been hampered by difficult terrain, with the area only accessible by rail or on foot.
Most of the migrants appeared to be from Somalia and Afghanistan, according to a state prosecutor.
Migrants fleeing war, poverty and repression in the Middle East and Africa are increasingly turning to the Balkans as a land route to western Europe – longer but deemed safer than trying by boat across the Mediterranean.
Up to 900 people died after a boat went down on Sunday off the coast of Libya, a major staging point for migrants heading to Europe.