Armenia remembers the victims of 1915 massacre
Comments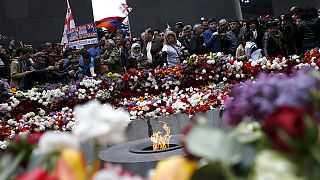 Armenians have marked the centenary of the mass killing of their people at the hands of Ottoman Turkish forces in 1915.
Coming from all over the world they paid their respects at the memorial to the victims in the country's capital Yerevan.
Earlier on Friday, a ceremony was attended by foreign leaders – notably the presidents of France and Russia.
Speaking at the ceremony Vladimir Putin said that Russia believed mass killings could not be excused under any circumstances, as they were party to a number of international laws, including the convention on genocide.
His remarks provoked an angry response from Turkey which rejects the term 'genocide' in reference to the killings.
Armenians living in Turkey gathered in Istanbul for a memorial march, carrying photos of those who lost their lives in 1915.
In a separate march in Istanbul, Turkish protesters denounced accusations of the mass killings of Armenians as genocide.
Many Western scholars categorise it as such as do 20 countries, as well as international bodies including the European Parliament.