Turkey faces renewed pressure to recognise Armenian killings as genocide
Comments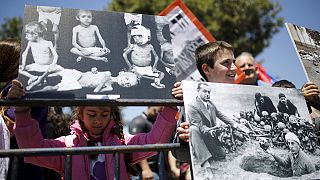 The mass killing of Armenians by Ottoman Turkish forces a century ago was genocide, according to Germany's parliamentary speaker.
Norbert Lammert has told the Bundestag that his country's own past makes it important to speak out.
"What happened during World War I in the Ottoman empire, witnessed by the world, was genocide. It wasn't the last one of the 20th century," he said.
In Jerusalem, hundreds of Armenians have protested in front of the Turkish embassy, also demanding that Ankara recognises the 1915 killings as genocide.
"Not accepting the Armenian genocide, it's like refusing it. So we demand (from) the world and we demand from the Turks to (that they) recognise the Armenian genocide, to make justice for the 1.5 million and to pay for that," said Noemie Nalbanian, an Armenian living in Jerusalem.
In Lebanon, thousands joined a march in the capital Beirut to remember those killed a century ago.
One protester said they wanted to show Turkey how it had failed in erasing Armenians from the world.
In Tehran, hundreds of Iranian Armenians rallied outside the Turkish embassy, chanting "justice" and "death to the fascist government of Turkey."