EU agrees to triple rescue funding for Mediterranean migrants
Comments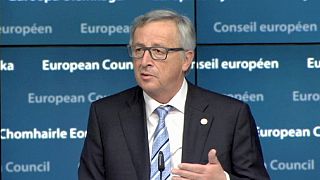 EU leaders are to triple funding for the search and rescue of migrants at risk of drowning in the Mediterranean.
European Commission President Jean-Claude Juncker said funds for the bloc's 'Triton' mission – at 120 million euros – would now be equivalent to those of Italy's former 'Mare Nostrum' operation.
In other measures announced, the bloc will also look into how to destroy vessels that could be used by smugglers.
President Francois Hollande says France will seek a United Nations resolution with that end in mind.
Record numbers of people are dying as they try to cross the Mediterranean in rickety boats.
Last Sunday's disaster in which an estimated 800 migrants from one boat lost their lives led to Thursday's emergency summit in Brussels.
Italy and Greece are the gateway to Europe for those fleeing war and poverty in the Middle East and Africa.
But the collective response from their EU partners falls far short of what is needed say critics who insist mass deaths will continue.
Amnesty International has slammed the new pledges as 'woefully inadequate and shameful'.